*This post may have affiliate links, which means I may receive commissions if you choose to purchase through links I provide (at no extra cost to you). As an Amazon Associate, I earn from qualifying purchases. Please read my disclaimer for additional details.
Every wonder why so many people proudly show off their tools? Whether they're in the garage, the basement, or in the work shed out back, people invest a lot of money into high-quality tools.
Purchasing tools and all of the accessories you need to work on your car or toy around in the woodshop can be a once in a lifetime task. You buy the right tools and tool boxes, and you'll never have to buy them again.
Modern tools are more durable and have more features than ever. You find some fantastic all-around tools and tools that are made specifically for one function.
There's everything you need online and in your neighborhood home improvement store. But where are you going to store all of these items both affordably and effectively?
Why are snap-on tool boxes so expensive?
Snap-on tool boxes are expensive due to the high quality and attention to detail that goes into manufacturing them. Investing in the right storage for your collection will save you time and money in the long term. A Snap-on tool box will protect your tools, and the tool box itself will not break, rust, or require frequent replacement.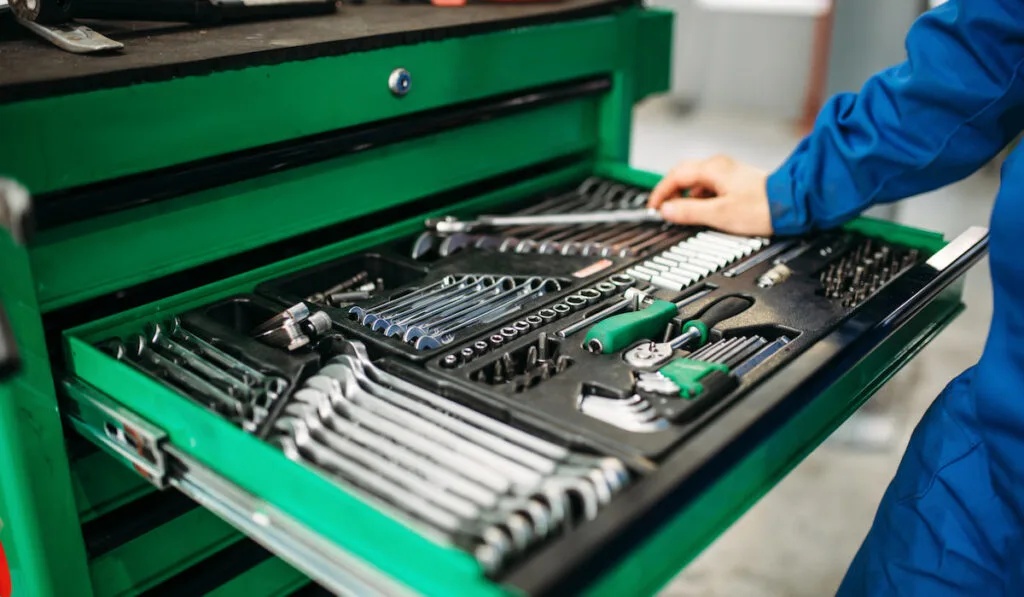 Snap-on tool boxes are one of the higher-cost items you'll need as you accumulate your tool collection. By focusing on quality, you may spend a little more upfront, but you'll end up saving money long-term.
Let's take a look at what earns Snap-on tool boxes their price tags.
Peak Tool Engineering
A Snap-on tool box can run you thousands of dollars. The most expensive of these amazing tool boxes are tens of thousands of dollars. These are not your average tool boxes.
They are incredibly well-engineered and customizable to fit whatever configuration suits you best. A lot of research and development goes into these kits, and the results speak for themselves.
Why deal with a tool box where everything is thrown in and it takes you forever to find the tools that you need? Skip all that with the specific design of Snap-on tool boxes where you can find tools exactly where they should be.
The drawers roll in and out smoothly, and the cases are designed to keep the tools inside in peak condition. And that's exactly how people who are serious about their craft want them.
The manufacturing process is the result of millions of dollars of investment. Everything is fine tuned to produce high-quality tools that will last.
Snap-On Tool Boxes are Super Secure
When you're spending thousands of dollars on tools, you want to keep them safe. It may not seem like a thief would want to target someone's tools, but discerning criminals know what to look for.
Homeowners and businesses are targeted everyday by thieves looking to lift their tools and sell them on the black market. They know what people pay for these items, and even a fraction of that amount constitutes a very good score.
One of the main benefits of Snap-on tool boxes is that they're extremely secure. Drawers come with locks to give you peace of mind knowing your tools are safe in the garage or the shop.
Amazing Features
The makers of Snap-on tool boxes have really got an amazing job. They've taken the simple tool box and turned it into a modern device with incredible features.
As you go up in price, you have more options available and can make your Snap-on tool box custom to your needs. Here are just some of the features available:
LED Lights
Some Snap-on tool boxes come with LED lights installed to make working at your station that much more effective. LED lights illuminate your work area and highlight what's inside of the drawers so you can grab what you need quickly.
Power Source
You can get a charging port incorporated into your Snap-on tool box to charge tools and other electronic devices while you don't need them or they aren't in use. Keep drill batteries, your computer workstation, and even your phone batteries topped up at all times.
Wheels
This isn't a new feature, but it's one of the most coveted. Snap-on tool boxes come with wheels on them, making them super smooth in the garage or wherever you need your tools. You can shift your set of drawers around as you move on a project to cut down on trips back to the tool box.
Comprehensive Warranty
When you're spending so much money on a tool box, it's nice to know it's covered in case anything goes wrong. Snap-on tool boxes have great warranties.
They'll be delivered to you in perfect condition, and the expectation from you and the supplier is that they stay that way.
If you run into any issues with your Snap-on tool box, it's going to be covered by the warranty and a replacement or a repair will be on its way in no time.
Sleek Design
Snap-on tool boxes look amazing, which is another reason why they are so expensive.
You get a stainless steel top to work on that keeps your workstation clean and looking top-notch. The drawers open and close quietly, and are deeper than your average tool box.
They're also very durable. Your tool box will look fantastic after years of wear and tear. If there ever comes a time when you want to sell it, the quality will also help you fetch a good price on the used market.
Time Is Money
In the end, Snap-on tool boxes are designed to give you the most pleasant working experience, cut down the time it takes you to find tools, and keep them in good condition for longer.
A lot of people make the mistake of thinking where they put their tools makes no difference. That's a quick way to damage your tools and lose items you've spent good money on.
Makers of Snap-on tool boxes spend years designing drawers, cabinets, and other compartments to make them fit anything possible.
Your tools will be better organized than ever, and you'll know exactly where that screwdriver or pressure gauge is when you need it.
As a tool owner or someone interested in upgrading or finally getting organized, you have options. Snap-on tool boxes have been at the top of the market for years, and the quality you get is something you can rely on for years and years.
With the right tool box, the way you work will completely change. You'll get more done and have a good time doing it!
Do some research into the setup that will work best for you. Putting in the time now will save you money long-term and keep your tools safe and in the right place.
Resources