*This post may have affiliate links, which means I may receive commissions if you choose to purchase through links I provide (at no extra cost to you). As an Amazon Associate, I earn from qualifying purchases. Please read my disclaimer for additional details.
Your air handling unit is a critical piece of your HVAC system. Sometimes called an air handler, air handling units (AHUs) condition air and push them through your vents and ducts around your home or in your office.
Typically, an air handling unit is made up of a blower, filters, and parts that heat and cool your air while it is inside. There are two main modes of air movement which classify AHUs: draw-through and blow-through. From there, several types of units can be designed to perform well in certain HVAC configurations.
Whether you're interested in learning more about your HVAC system or you want to find the best AHU for your configuration, understanding the different options out there is key.
Here is some helpful information on the different types of air handling units to get you started.
How Many Types of AHUs Are There?
In theory, a company can build a wide range of AHUs. However, these days HVAC parts manufacturers like to make things more standard so they fit in more systems. That way, they can sell more units that are easier to fix and maintain.
In general, air handling units move air through the following two mechanisms:
Draw-Through AHUs – This type of AHU draws air through a mixing box and cooling coil before pushing it out to either be conditioned or go through the ventilation system. The section just before the fan section has negative pressure that allows for efficient airflow.
Blow-Through AHUs – This AHU blows instead of pulls. With a fan, the air is pushed through the mixing box and filters before it is cooled and then pushed into the ducts. This is a system that uses positive pressure to work correctly.
In addition to blow-through versus draw-through, there are also different AHU builds depending on what functions you need, budget, and other factors. They are:
Rooftop Units: These air handling units are made for outdoor use and sit on top of a commercial building or residential roof. Because they're outside all day, they're very durable and designed to perform in a variety of weather conditions. They draw their air from outdoors completely and do not cycle any recirculated air.
Terminal Units: Terminal units are housed inside of the HVAC system and they're often called blower coils. They're relatively simple and are made up of only a coil, a blower, and an air filter.
Makeup Units: Makeup units are another AHU that uses 100% outdoor air instead of recirculated air. These are larger units that larger homes or commercial properties rely on for good HVAC performance.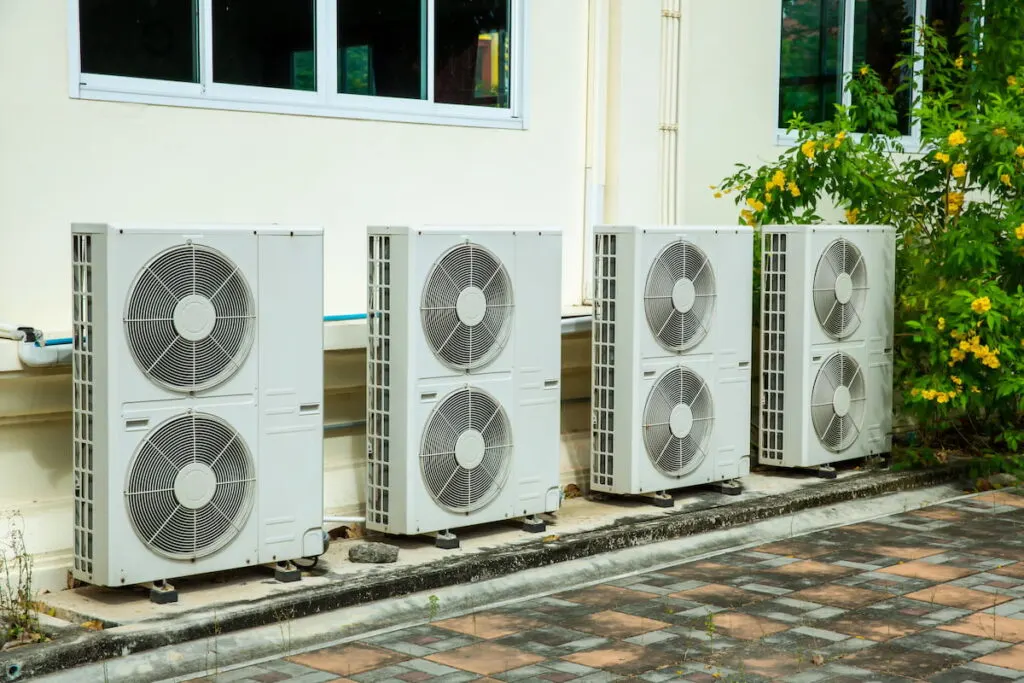 Custom AHUs
Of course, you could always get a custom AHU made if a premade air handling unit doesn't fit what you need or offer the performance you're looking for. Certain HVAC companies can make AHUs specific to your home, warehouse, or place of business. It all depends on what you need.
Custom AHUs are often more expensive than premade units you buy in a store. Just something to consider when you're deciding on budgets.
What Are the Main Components of an AHU?
We've covered this a bit already, but the main components of any air handling unit include the fan, the blower, the coil, and the filter. Here's what each does and why it's needed in an AHU.
The Fan – The fan, whether you have a negative pressure unit or a positive pressure unit, facilitates air movement through the AHU and other HVAC appliances. Proper air movement is crucial to energy efficiency and fast cooling, so you'll need a good fan to ensure both.
The Coil – Coils change your air from hot to cold and vice versa. With the coil, you've essentially got a fan that will blow air through your vents without making it cool in the summer and warm in the winter.
Filters – Most AHUs come equipped with an internal air filter that filters out pollutants and other small particles from the air outside before they make their way into the vents. Filters need to be changed every so often (usually a couple of times each year), but they're a great way to cut down on seasonal allergies and give property owners peace of mind knowing they are breathing clean air.
Blowers – Your blower is what pushes the air through your vents. Depending on the size of your home or commercial building, the air, once it's cooled, has quite a distance to travel. You need a blower that works and is strong enough to push cool air to its destination before it has time to warm up again.
What Is an FCU?
A lot of people hear the term "FCU" and wonder what that is. Sometimes, whether you're talking to an HVAC technician on the phone or reading articles online, acronyms get in the way. Professionals use them all of the time, and barely notice when they mention them in front of someone who probably doesn't understand what it means.
FCU stands for fan coil unit. It's a basic device found in most HVAC systems that heat or cools the air without being attached to the main air ducts.
You can turn them on via remote or control panel, and it will manage the temperature in the room it's in without impacting temperatures in the rest of the house.
FCUs are more common outside of the United States, but you're finding them here more and more. They don't use as much energy, and they're great if you just want to cool a bedroom as you sleep at night instead of the entire house. It puts less of a burden on your system and saves you money by not using as much energy.
Now that you know a bit more about air handling units, you can make better decisions when it comes to HVAC installation and repair!
Resources