*This post may have affiliate links, which means I may receive commissions if you choose to purchase through links I provide (at no extra cost to you). As an Amazon Associate, I earn from qualifying purchases. Please read my disclaimer for additional details.
If you love a good DIY project, you are probably used to using paint to complete your projects. At one time or another, your paint is going to get onto your floor and make a mess. It's important to know what to do in this situation.
How do you remove paint from your garage floor?
Using proper paint removal products and tools such as paint remover, a brush, a pressure washer, and safety equipment, you can easily remove paint from any surface, including your concrete garage floor.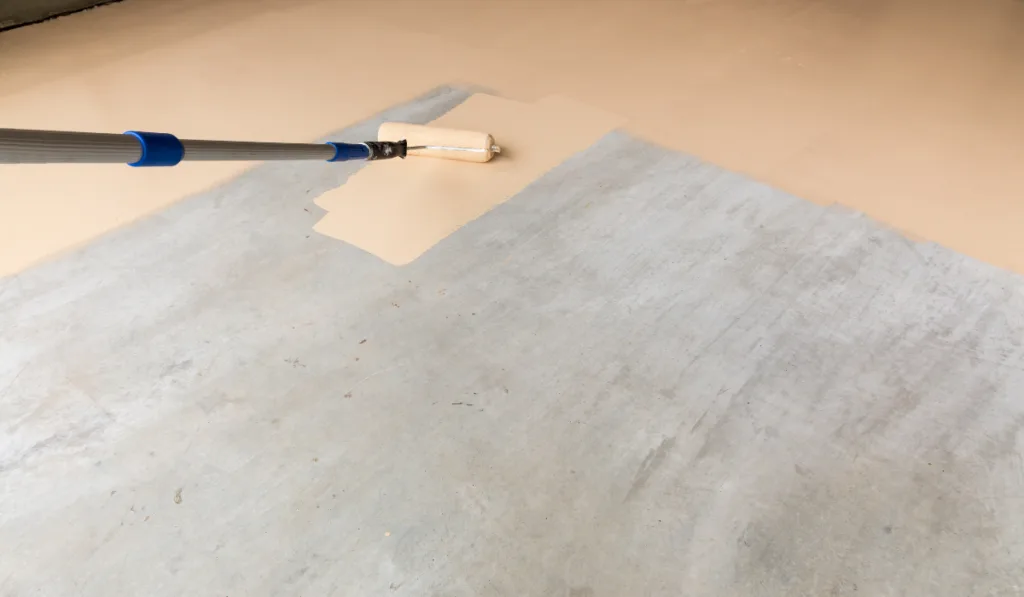 This article will reveal different ways to remove paint from your concrete garage floor and discuss some easy tips to prevent paint from getting on your floors.
Keep reading to find out how to remove various types of paint from your garage floor to save you time and headaches when completing your DIY projects at home.
How to Remove Paint from Your Garage Floor
There is nothing more frustrating than a mess, and paint can be one of the more frustrating messes.
When you paint something, you expect it to be permanent (unless you decide to paint over it again in the future), and when you see that paint splatter on your floor in an unwanted place, it can make your heart stop.
The good news is that you can remove paint from unwanted surfaces, even your garage floor. Knowing the different ways to remove the paint ahead of time will ensure you have the supplies on hand to take care of any nasty paint messes.
According to Best Maids, there are a few simple steps involved in removing dried paint from your garage floors.
We are going to take a look at each step and break down the importance of following these guidelines for proper paint removal.
Steps to remove dried paint from your concrete garage floor:
The first step is to remove any extra dirt and debris from the area. You are going to want to take a broom or shop vac and simply clean up the area. Removing the dirt and debris is always a good idea; that way, when you get to the scrubbing part, you won't have extra unwanted debris in your way. It also helps if you have any loose paint flakes that you could easily remove with a broom.
The next thing you are going to want to do is to use a chemical-based paint stripper/remover. The kind of paint you are working with could determine the type of paint stripper you need to use to pick up all of the paint off the floor. However, if you don't know exactly what your paint is made of, try using an oil-based paint stripper. Make sure you cover the entire paint mess with the stripper to ensure you will be able to remove all the mess and not just a small portion.
MAX Strip Professional Strength Paint and Varnish Stripper – 1 Gallon – Strips Paint, Latex, Polyurethane, Shellac, Varish, Acrylic and More – No Methylene Chloride No NMP Powerful No Drip Gel Formula
DESIGNED TO REMOVE PAINT AND VARNISH FROM MULTIPLE SURFACES – Remove Paint, Latex, Polyurethane, Shellac, Varish, Acrylic, Oil Based Coatings and More in usually a Single Application!
EASY TO USE WITHOUT CAUSTIC CHEMICALS – Contains NO Methylene Chloride or NMP. Apply to the surface and check every 15 minutes till it's ready. Remove with scraper. No fuss, no muss!
THE "DO-IT-YOURSELF" CHOICE – Powerful enough for painting contractors and restorers, but user-friendly enough for all your DIY home projects.
NO HARSH FUMES OR UNPLEASANT ODOR – Ideal for use in confined or small spaces.
You will want to make sure you read all the directions on the container of your paint stripper. It will tell you exactly how long you need to allow the chemical to sit on the paint for the product to work and remove the paint properly. Some products can start working in as little as minutes, while others can take hours. If you don't allow the product to sit as recommended, it might not work, and you would have to start over or try another method to remove the paint.
Next, you have to scrub. You can use a wire scrub brush if you have a smaller area and can do it by hand. If your paint mess is more extensive or you just don't feel like scrubbing the mess by hand, you can always use attachments for a drill . They can help you get the job done more quickly.
Sale
ALLWAY BB2 Soft-Grip Wide Brass Stripper Brush
Comfortable, patented soft-grip handle allows you to scrub various surfaces with minimal hand fatigue
Features wide brass bristles that are less aggressive than steel wire
Crimped bristles ensure even coverage
If you notice that only some of the paint has lifted, you may need to repeat steps. You would need to place more of the paint stripper down on the leftover paint and allow it to sit again as recommended by the company.
Once you are 100% confident with your paint removal, it's time to clean up! Take a pressure washer (or, if your area is small enough, a garden hose) and remove any traces of the chemical from your garage floor. After clean-up is finished, your garage should look just like it did before you started painting.
Sale
Sun Joe SPX3000 Electric High Pressure Washer
[POWERFUL]: 14.5-Amp/1800-watt motor generates.Pump Type : Wobble-Plate Piston. Voltage (V) : 120..Cord Lock : Yes. Foldable Handle : No
[VERSATILE]: Tackle a variety of cleaning tasks: homes, buildings, RV's, cars, trucks, boats, decks, driveways, patios, lawn equipment, and more. With two 0.9 L onboard detergent tanks, removable tanks carry and store different types of detergent to simultaneously tackle different cleaning projects.
Removing Epoxy Paint from Your Garage Floor
If your garage floor is covered in epoxy paint, you can remove it if needed. It can be a pain to remove, but as with anything, having the correct supplies can help aid you in the process.
The article "How to Remove Epoxy Flooring from Concrete" has some great tips to remove epoxy paint from your garage floor.
The first thing you are going to want to do is mop up the surface area of your garage, making sure you remove any extra oil or anything else that could react with the epoxy remover.
Make sure the paint remover you are using is rated to remove epoxy paint.
Read all of the instructions on the product to ensure you are following exactly what the product recommends for the removal of the paint from the concrete floor.
You will then take your mop and apply the remover to the entire surface area that you are trying to remove the paint from.
Make sure the area is well ventilated since you are using a chemical product, and you don't want to breathe in too many of those fumes while working. Keep your skin and eyes protected as well and avoid any direct contact with the chemical.
You will know it is time to get out your long-handled scraper when the paint starts to bubble and appears like it is rising from the garage floor. Make sure you are using a back and forth method as you scrape to remove as much of the paint as you can.
Once you have scraped as much of the paint as you can, use cold water to remove that debris from the garage floor.
If you still have paint left on the floor after you complete all of these steps, you may need to repeat the process to remove any leftover paint.
How to Remove Spray Paint from Your Garage Floor
Spray paint can be a great asset when completing a project at home. However, it can also leave a lovely little ring around whatever you have painted on your garage floor.
The best thing to do when using spray paint is to lay cardboard outside in your lawn or gravel driveway before spraying.
If you didn't think about doing that and now have a mess inside of your garage, don't worry too much. Home Quicks has some great solutions to removing that pesky spray paint.
Is the paint temporary?
If the spray paint is temporary, it will be easy to remove. The only thing you are going to need is water and a brush.
You will want to spray the area (or wet the area if it's a smaller area), then take your brush and scrub until the spray paint lifts from the surface.
Removal with a pressure washer or sandblaster
If the spray paint is permanent, one solution would be to try using a pressure washer or sandblaster to remove the paint. If you don't have either of these available to you, some places will rent them out for home use.
Make sure you understand how to use these machines before you start. They both operate differently, and you don't want to find yourself using them wrong and making things more difficult for yourself in the long run.
A pressure washer or sandblaster could be the only thing you need to remove the paint.
LE Lematec Sand Blaster Gun Kit and Paint Stripper
VERSATILE SAND BLASTER: Turn your trash into treasure with Lematec's sandblaster kit. Our amazing media blaster kit supports unlimited media types making it a versatile tool for any home or shop – use it for removing rust and corrosion, cleaning metal parts, etching glass, or for preparing surfaces for painting or coating.
EFFICIENT AND EASY TO USE SANDBLASTER: This sandblaster gun kit operates at up to 150 PSI, ideal for prolonged sandblasting. The soda blaster also features continuous siphon action for efficient rust removal as well as a gravity feed function to allow for versatile positioning. A reliable tool for any job, works especially great as a rust remover for car maintenance.
Removal with a paint stripper
If you would instead go the chemical route to remove the spray paint from your concrete garage floor, you have two options.
You can either go with a chemical stripper (make sure the area is well ventilated with this option) or use a less hazardous route and go with a gel stripper .
Both ways will remove the paint and come with instructions on how to use the product.
Typically, they will have to sit on the area for a specific amount of time to lift the paint from the surface. So, expect to have a waiting period before you can try to scrub off the paint.
Paint Thinners
Paint thinners are another option to remove spray paint from your garage floor. They will have to sit on the paint for a specific amount of time, and that will be determined by the product you are using.
Once the product sits, you will then be able to scrub off the paint using a brush. If you don't have a brush, you can even try using a towel dipped in the paint thinner to remove it from your floor.
Degreaser
When it comes to spray paint messes, you could even use an oven cleaner or multi-purpose degreaser to do the trick of removal.
Krud Kutter 305373 Kitchen Degreaser All-Purpose Cleaner
Cleans and removes tough greasy, grimy messes from a variety of surfaces including stovetops and range hoods, countertops, cabinets, walls and other surfaces around the house
Ready to use non-toxic formula, simply spray and wipe clean
Cleaner is EPA Safer Choice certified and safe for people, pets and the planet
You will have to allow it to sit on the spray paint for a while to lift the paint. It will take longer than it would if you used a remover that is designed for lifting paint off of surfaces.
Can You Remove Paint Without Chemicals?
Yes! You can always try the less abrasive route and try to remove paint without harsh chemicals.
It can be better on the environment to try these ideas before you dig into the chemicals for paint removal. "How to Remove Paint from Concrete" has a couple of tips to avoid using chemicals to clean up a paint mess.
Power Washer
Power washers can be a great tool in helping to remove paint from your garage floor. If you don't have one, you can always rent one from a place that rents out machines for home use.
Follow the instructions on how to use the device correctly to ensure you are using it to its full potential. All you need for this method is a water connection and the machine.
Floor grinder
If you have access to a floor grinder, you can use it to remove paint from a concrete surface like a garage. This tool will remove all of the paint from the floor. Make sure you are using the device in a circular motion and don't stay in one spot too long.
You are also going to want to wear a mask to prevent breathing in any of the dust particles from the paint that will be in the air. Open the garage doors and windows to allow for proper ventilation while you are using this method as well.
Soy-Based Gel Cleaners
You can also use a soy-based gel remover for paint. They are non-toxic and are much better for the environment than the standard chemical paint removers.
You will need to follow the directions on your specific product and allow it to sit on the paint for the recommended time frame declared by the company.
Once the product has sat for the time needed, you will take an old towel and remove the gel. The paint should come up right along with it.
These types of removers can be used multiple times (because they are gel-based), and they work well for larger surface areas.
There are many brands out there that sell soy-based paint removers. Here is a list of the ones we found:
Blue Bear 500 MR Mastic Remover– If you are looking for a soy-based paint remover, the Blue Bear 500 MR Mastic Remover, could be what you are looking for. This remover is non-toxic and has fewer fumes than standard paint removers.
Weber Turpenoid Natural– This product removes paint without any odors and is gentle on your skin. The Weber Turpenoid Natural paint remover is non-toxic and non-flammable!
Weber Natural Turpenoid, 473ml Bottle
An effective non-toxic brush cleaner and gentle brush reconditioner
Effectively cleans and gently reconditions brushes and rinses out with plain water
Designed for artists as a safer alternative to traditional and harmful solvents associated with oil painting
How to Clean up Paint That You Have Spilled
If you are working on a project and a small amount of paint spills onto your garage floor, there are ways to clean it up if you act fast!
Sometimes paint will drip off of your paintbrush and land on your floor. If this happens, reacting as quickly as possible can be the difference between a simple clean up or a deeper clean.
Always remember to wear gloves and a face mask when using any type of chemical to clean up paint from any kind of surface. It's better to protect yourself from the fumes than to inhale them or get them on your skin.
If you find yourself needing to clean up a paint spill, remember these easy fixes:
Cleanug Up Splled Latex or Water-Based Paints
How fast you react with this type of paint will determine if you need to use harsh chemicals to clean the paint up or not. As soon as you notice that the paint has spilled, try to clean up as much of the paint as possible with a rag of some kind.
Evans Paint has six easy steps you can follow to remove spilled paint from your concrete garage or any other concrete surface on the exterior of your home.
As soon as the paint has spilled onto your garage floor, grab a newspaper or some other type of rag to contain the paint, so it doesn't keep spreading. The faster you contain the spill, the less surface area you will have to clean.
One of the best household items you can use to clean up spilled paint is kitty litter . So, if you have kitty litter lying around, grab that and pour it over the spill. You are going to want to let the kitty litter sit on the spill for 10-15 minutes to allow the litter to soak up as much of the paint as possible.
After you have waited the recommended time, grab a shovel and scoop up all the kitty litter from your garage floor and place it inside of the trash.
You will then want to grab a bucket and rag. Take warm water and mix it with a cleaning detergent such as dish soap . Take your cloth and scrub the area with the mixture.
If you still have paint on the concrete, get out a steel wire brush and use that to scrub the area to remove any leftover paint.
Once you are satisfied with the removal, you will need to get out your garden hose. Use the garden hose to rinse the area thoroughly.
How to Protect Your Garage Floor from Future Paint Spills
If you are planning on painting inside your garage, you are going to want to take measures to protect your floor.
Projects big or small can result in paint getting on the concrete floor of your garage. If you want to avoid cleaning the garage floor with chemicals, you can try out some of these tips.
Suggested tips to help protect your garage floor from paint spills include:
Cardboard – If you have ever ordered anything online, you probably have cardboard boxes lying around your home.
If you know you are going to be doing a project, you can save your cardboard boxes and use them as a preventative solution for paint spills.
You will simply cut the boxes down and place them on the garage floor in the area that you are going to be working.
The best part is you can just throw them when you are finished! It makes for an inexpensive way to protect your garage floor and super easy to clean up after you are finished with your project.
Canvas drop cloth – If you are looking for something that you can wash and reuse in the future, a canvas drop cloth might be the best option.
Sale
All Purpose Canvas Drop Cloth
THE PERFECT SHIELD AGAINST PAINT, DUST & STAINS: No matter if you are a professional painter or just an active DIYer who loves trying different projects, this heavy-duty canvas drop cloth is just what you need to protect your floors and furniture from nasty stains. Its highly absorbent cotton material instantly traps paint and dust to prevent pesky paint drops from ruining your precious floors. Less mess, less cleaning!
They come in a variety of sizes and are perfect for a painting project inside and outside your home. These canvas cloths absorb paint spills and trap dust and debris.
Plastic drop cloths – Another option as far as painting drop cloths go is a plastic drop cloth . These are used similarly to the canvas drop cloths but with the intention of one-time use.
When you are finished with your project, you simply dispose of the drop cloth. They can be very inexpensive and come in packs with multiple drop cloths for future projects.
Plastic drop cloths are waterproof so that they will work great with all types of paints.
Tarps – You might have a standard tarp lying around your house that you could use without having to run out and purchase anything.
These can work to protect your garage floor from paint spills if you don't have the option of using a plastic or canvas drop cloth.
Tarps have a vast range of uses and keeping your garage floor protected is one of them!
If you want to use your tarp in the future, you need to make sure the paint has completely dried (or try to remove the paint mess from the tarp) before you fold it up and put it away for future use.
Garage floor tiles – If you are going to be using your garage for projects regularly, Garage Living suggests using garage floor tiles.
They come in multiple colors and interlock together to create a protective layer between what you are doing in your garage and your garage floor.
ProsourceFit Extra Thick Puzzle Exercise Mat
PROTECTIVE, PORTABLE FLOORING – Dense, durable tiles protect floors and withstand gym equipment and heavy use
COVERS 24 SQ. FT. – Each tile measures 24" x 24" x 3/4"-thick or 24″ x 24″ x 1″-thick Includes 6 tiles and 12 end borders for a polished look
SIMPLE ASSEMBLY – Lightweight pieces quickly connect; easy to disassemble and move. Great for gyms, fitness studios, or play areas.
These would be great if you are going to be doing many projects in your garage, or you run a business out of your garage where you are painting things daily.
You can use them alongside a tarp or painting drop cloth for added protection. They even have some cushion, making garage floor tiles more comfortable to stand on for hours at a time.
Containment mats- Looking for something heavy-duty for your painting projects? You can always use a containment mat .
Pig Home Solutions Oil Drip Mat for Under Car
STAYS IN PLACE: Grommet mat is 5' x 5' – corner grommets allow for staking into the ground or tying in place
PROTECTS DRIVEWAY OR GARAGE FLOOR: Heavy-duty three-layer mat makes sure that oily leaks and drips never reach the ground; designed to be a ground mat for vehicle maintenance and outdoor equipment or as a barrier to catch leaks from stored equipment
These types of mats are designed to be used in your garage to park your car on to protect the floor from any snow, salt, and ice that you can bring in that drips from your car onto the floor.
However, they can be used for painting as well!
You can simply lay one down in the area you are working on, and it will protect your garage floor from the paint and other debris that could come from the painting. They can be cleaned off and reused for future painting projects.
Paint outside- If your yard has the room and the weather is nice, you can always try to move your painting projects from inside of your garage to outside.
This will help keep your garage clean and allow for a ventilated area to work in. Painting outside could be the solution you are looking for in some cases.
Paint Removal Tips
When it comes to painting in your garage, there are a few things you need to keep in mind, especially when it comes to removing unwanted paint from the garage floor.
Make sure you always wear protective equipment when painting or using harsh chemicals to remove paint spills. Wear gloves, a face mask, and in some cases, something to protect your eyes.
Always paint and use paint remover chemicals in a well-ventilated area. It's imperative if you are painting in your garage to open the garage doors and windows to allow for fresh air to enter the garage.
Read the information about the products on the packages. Some products are highly flammable, and you should use caution in situations where you are using those products near flames.
Always follow the instructions on how to use removal chemicals. It's essential to make sure you are doing what the product instructions suggest versus just pouring the substances on the paint and hoping for the best.
Some of the chemicals, such as paint strippers, can react with the concrete and cause discoloration. You are going to want to test a small area that you won't notice to see if the chemical lightens the color of your concrete in your garage.
If you have tried everything to remove the paint from your garage floor and nothing has worked, it might be time to bite the bullet and paint over the whole garage floor. If you don't want to paint the garage floor, you can look into garage floor mats or interlocking garage tiles to cover the garage floor and the paint that refuses to come up.
In Conclusion
You don't have to worry about paint mishaps staining or ruining your garage floor! If you take precautions to avoid the paint from spilling or splashing onto your floor, you can easily maintain your garage floors while painting.
If a mess does occur, there are ways to clean up the mess and keep your sanity! Remember, acting fast when a spill happens will make the cleanup easier. Don't let the fear of paint spill keep you from completing your DIY project or keep you from stressing over whether you can run a painting business out of your garage.