*This post may have affiliate links, which means I may receive commissions if you choose to purchase through links I provide (at no extra cost to you). As an Amazon Associate, I earn from qualifying purchases. Please read my disclaimer for additional details.
There are many ways to enhance your garage flooring. Here we will discuss the advantages and disadvantages of the most common methods utilized to finish garage flooring. These methods of finishing garage flooring vary broadly in cost and installation difficulty.
What are the best choices for garage flooring? Here are the eight (8) best options for garage flooring:
Epoxy
Paint
Tiles
Mats
Concrete Stain
Polyurea Coatings
Carpeting
Concrete Sealers & Resurfacers
Finishing your garage flooring using one of these finishes will help you extend the life of your garage flooring. Besides discussing the ins and outs of the 8 best garage flooring methods, we will also address common questions associated with garage flooring.
1. Epoxy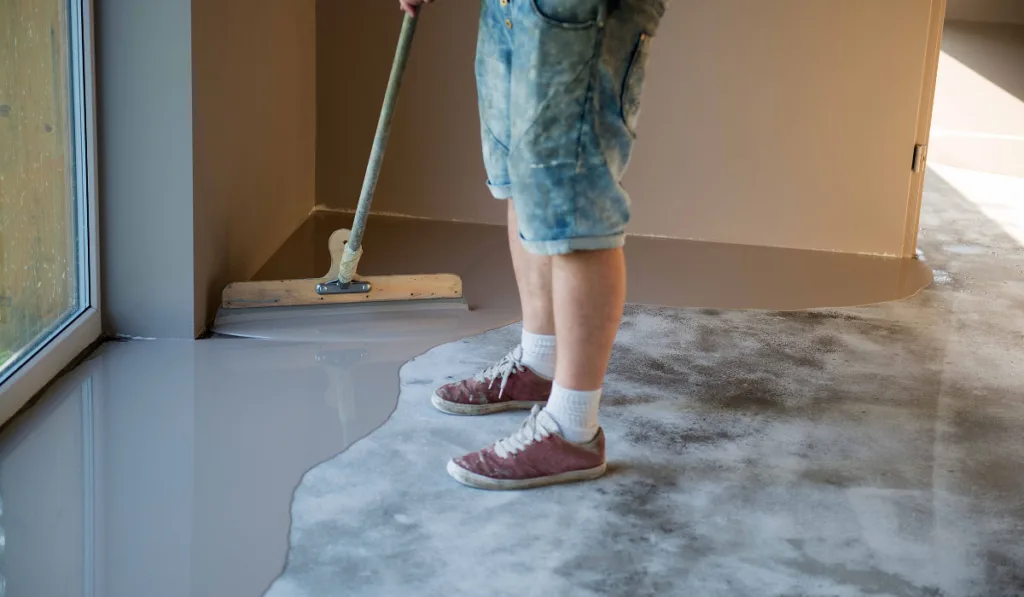 The benefits of applying an epoxy finish to your garage floor include, according to This Old House:
Having a floor surface with a clean and finished look
The surface will resist oil stains
Epoxy surfaces bead water
Epoxy surfaces are simple to clean
The installation of epoxy floor finishes is simple and straightforward too. The only tools you need are a natural fiber push broom , a paint tray , a sprinkling watering can, and a paint roller with an extension .
You can find detailed instructions on how to install an epoxy finish to your garage floor on the This Old House website.
Epoxy is much tougher than other paints or stains that you may apply to your garage flooring.
For one thing, epoxy is better able to withstand a common killer of garage floor surfaces called hot-tire pick-up. As you drive your vehicle on top of hot asphalt surfaces during the heat of summer, your rubber car tires absorb a great deal of heat from asphalt surfaces.
Then you return home to your garage, and the heat of the tires can scuff your garage flooring, especially if you have applied paint or stain to your concrete.
The paint and stain on your concrete floor will begin to peel and disintegrate under the heat of the hot tires.
1-Part Epoxy
You will often see 1-part epoxy garage floor paints such as Drylock 1-part epoxy semi-gloss floor paint . The 1-part epoxy garage floor paint contains a mixture of epoxy and paint.
1-part epoxy comes premixed in the can, but 2-part epoxy needs to be combined with either a stick or mixer.
2-Part Epoxy
2-part epoxy, such as Rust-Oleum Epoxy Shield Garage Floor Coating , is even tougher and more durable than 1-part epoxy. Rust-Oleum claims that the 2-part epoxy is five times stronger than the 1 part epoxy.
However, the installation of 2-part epoxy is quite a bit more involved, as it requires mixing prior to application. 2-part epoxy must be applied within 4-6 hours of mixing in order to prevent it from drying out.
If you are inexperienced, you may consider hiring a professional to install your 2-part epoxy.
You also cannot install epoxy on floors accumulating any bit of moisture or dampness, as water interferes with the epoxy bonding process.
It is also recommended that you apply a coating of wax, such as Green Gobbler Ultra High Gloss .
2. Paint
Not only does painting your garage floor give it a clean look, but it also offers a degree of protection and is less expensive than other garage floor finishes.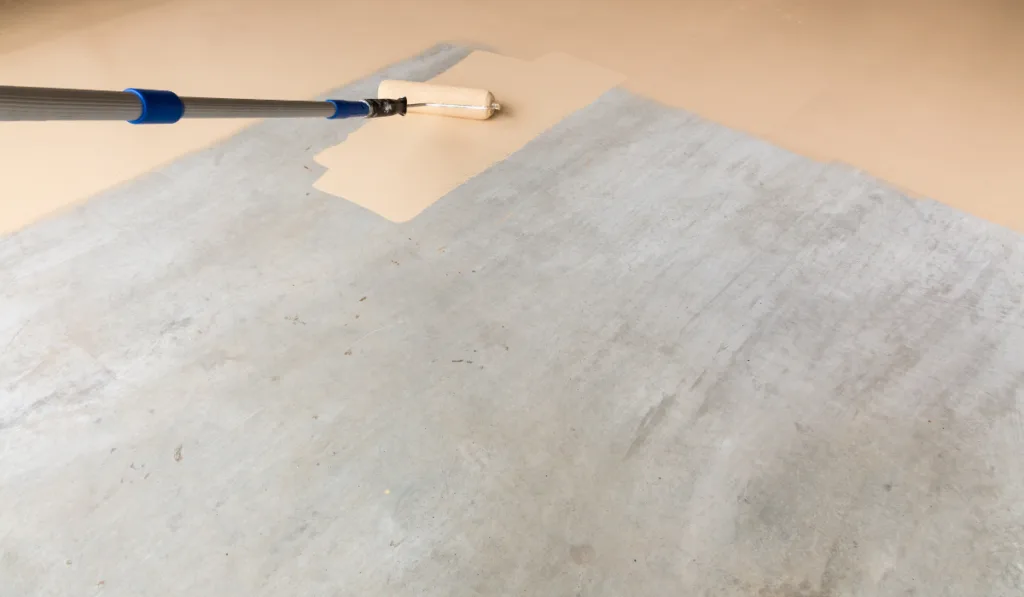 You will generally see three types of garage floor paint options available on the market. You will see latex paints, such as Drylock concrete floor paint .
Here we will go through the advantages and disadvantages of the latex and oil-passed concrete garage floor paints.
Latex Paints For Garage Floors
Latex paints are popular for DIY floor finishing projects owing to their user-friendliness. They are easy to apply, and they adhere to a variety of surfaces easily.
Another advantage of latex paints is that they will allow water vapor to escape from the applied paint during the drying process. This prevents the paint layers from separating from each other.
It is also easy to clean up latex paint if you happen to accidentally spill some.
If you live in a humid area or have had problems with moisture and mildew in the past, it is recommended that you use an acrylic latex paint such as RTG Concrete Floor Paint .
Oil-based Paints For Garage Floor
The advantage of using oil-based paints for your garage floor is that you will end up with a shiny finish that is more pleasing to the eye than what you get with latex paints.
One popular oil-based paint for concrete surfaces is this Porch & Floor enamel .
There are a couple of downsides to using oil-based paints on your garage floor:
They are more difficult to clean up than latex paints.
Oil-based paints are also less durable than latex paints. The wear and tear caused by driving over the top of the paint layer will lead to the necessity of frequently repainting the surface.
You can clean up latex paints with soap and water, but you will need mineral water to clean up oil-based paints.
However, if you are looking for a glossy look that you can't get with other paints, then oil-based paints for concrete will be your go-to option.
These factors also make oil-based paints an excellent way to add a finishing touch to a porch or patio.
3. Tiles
Tile options for garage floor finishes include:
Interlocking floor tiles
Rubber garage floor tiles or rolls
Porcelain garage floor tiles
Vinyl peel and stick garage floor tiles
One benefit of using tiles to finish your garage flooring is that they are typically easy to install. This is particularly the case with vinyl peel-and-stick garage floor tiles.
Also, the interlocking tiles don't require you to use many tools other than your own hands since the tiles are held stationary and adhere to the garage flooring due to their interlocking properties.
Vinyl Peel-and-Stick Garage Floor Tiles Are Easy To Install
Installation of vinyl peel and stick tiles simply means measuring out your floor space to determine how many tiles you need to buy, pick the design you like, and peeling off the protective layer to expose the adhesive layer.
Tiles will often even come with directions that show you which direction to lay the tile in. You do not need to be a master handyman to install tiles.
Vinyl tiles are available in a multitude of patterns and colors. They are relatively durable, but surface gouges in vinyl tile are noticeable and may not be easily fixable, according to the University of Nebraska.
Rubber Garage Floor Tiles Are Durable
Rubber garage flooring options are easy and affordable to install. They can be found in the form of individual tiles that you set or a mat that you roll out.
Either way, the experts at This Old House have this to say about rubber flooring:
Rubber flooring is durable
It's Waterproof
It's Stain Resistant
It is also easy to clean
If you perform a lot of mechanical work in your garage, rubber tiles may be a good option for you since they are resistant to damage caused by stains or heavy objects being dropped. They are also cheaper and easier to replace than a concrete floor that has become chipped or cracked.
If you happen to notice an unpleasant odor upon installation, this should not be a cause for concern. The rubber odors dissipate quickly over time.
Porcelain Tile Is Not as Fragile as You May Think It Is
The first thing that comes to mind when you think of porcelain tiles is the kitchen, dining room, or bathroom. However, porcelain tiles have become a popular choice for garage flooring as well.
Porcelain tiles are already well established as a flooring option in auto dealerships, professional mechanics garages, and other commercial spaces frequently on display to the public.
Porcelain tiles have a sleek finish that makes them a fine addition to any garage. They mirror the appearance of quarry stones such as marble, granite, and sandstone, among others. They are also more durable than you may think they are.
4. Mats
Mats prevent slips and fall and can also provide support to your back and joints if you happen to do a lot of work in the garage.
Rubber-Cal Tuff-N-Lastic Rubber Flooring Runners
This roll-out mat is a ⅛ inch thick rubber mat available in 8 different lengths, providing DIY installers with a variety of choices to best fit their garage space.
This mat is designed to prevent slipping. The surface of the mat is textured to be similar to a bunch of pebbles.
Mats like the Rubber-cal are also a great option for garage flooring if you are looking to prevent the indoor flooring from taking on water damage.
The rubber flooring is also weather-resistant, making it a suitable garage flooring option in cold climates where you will drag a bunch of snow and road salt into the garage during wintertime.
The bottom of the rubber mats also has a pebble-like textured surface designed to hold the mat stationary against the concrete garage floor. Another plus with this rubber mat is that it has been made of 100% reclaimed rubber.
Drymate Armor All Oil Spill Mat
This Armor All mat is designed to protect the floor of your garage from oil spills, water, and other liquids.
The mat contains absorbent fabric that makes it suitable for the mechanic who wants to avoid damaging their garage floor.
The mat absorbs moisture with the absorbent fabric and is designed to keep it from seeping through the mat due to the inclusion of a waterproof backing.
The only potential downside is that this mat is designed more for spot protection rather than to be a finishing layer for the entire surface area of your garage floor.
This is because the mats aren't as heavy as some of the other mats discussed in this article. They also may not adhere to the garage floor surface in the same way that heavier roll out mats do.
Still, these are an excellent choice if you are looking for an affordable way to protect your garage floor from oil spills, particularly if you have given your garage a finishing touch with high-quality tiles.
HDX Diamond Universal Garage Flooring
The HDX Diamond Universal Garage Flooring roll-out mat is made of formulated polyvinyl.
Formulated polyvinyl is resistant to most of the contaminants that are commonly found in garages, where a great deal of mechanical work is performed.
The mat creates a moisture barrier between the surface and the garage flooring beneath the mat in much the same fashion as the other mats discussed in this section are designed to do.
If you are going to use some kind of adhesive to keep the mat in place, the manufacturer recommends using an acrylic base vinyl adhesive, such as QEP Double-sided acrylic adhesive tape or a glue such as Henry, WW Company Vinyl Repair Adhesive .
The mat is also not very heavy, making it easy to move. However, it may not be easy to keep stationary without using one of the adhesives mentioned in the above paragraph.
5. Concrete Stain
You can breathe new life into your concrete by applying a stain to your garage floor.
Applying stains to your floor is generally less-involved than applying paints to your floor, but you will have to touch up the surface again later more often, according to Home Depot.
Concrete stains fall within two different categories:
Acid-based stains

Acid-based stains are durable but can produce potentially toxic chemicals if not installed with care

Water-based stains

The installation of water-based stains is much less tedious than the installation of acid-based stains
Water-based Concrete Stains
Water-based stains tend to come in a wider variety of colors than acid-based stains. They also have fewer toxic chemicals than acid-based stains and typically dry quicker.
However, water-based concrete stains also tend to fade away more quickly than acid-based stains. You will need to frequently reapply water-based concrete stains.
It is recommended that you apply a concrete stain sealer overtop the applied stain to protect it.
Water-based concrete stains are recommended for those less experienced in working with stains. They require a lot less manipulation than acid-based stains.
Acid-based Concrete Stains
Acid-based stains last longer than water-based concrete stains. There is little need to apply a concrete stain stealer when you are using acid-based concrete stains.
Acid-based concrete stains take longer to fade away because the acid-based concrete stain actually alters the appearance of concrete. This requires knowledge about how to deal with the potentially harmful substances associated with acid-based stains.
If you are planning on applying acid-based concrete stains, make sure you are using the proper protective equipment, including protective clothing, splash goggles, a ventilator mask, and a box fan to repel the fumes the stain gives off before it has dried.
6. Polyurea Coatings
Polyurea floor coatings such as Rust-Oleum RockSolid Polycuramine claim to be significantly stronger than traditional epoxy coatings.
Polyurea floor coatings are designed to be fast-curing and fast-hardening. They are also designed to handle more abuse than traditional epoxy coatings, according to Floor Trends Magazine.
They are typically applied in factories, warehouses, and other commercial facilities that need heavy-duty floors.
Benefits of polyurea floor coatings:
Can harden within a few hours and can be ready for use a day later. They are also simple to maintain and keep clean once they are installed.
Are resistant to temperature changes and don't emit the toxic chemicals that traditional epoxy garage floor coatings sometimes can.
Potential downsides:
The product itself tends to cost more than some of the other garage floor finishes mentioned here.
You will also probably have to pay a professional contractor to install a polyurea floor coating for you. Experts on the matter encourage hiring a professional contractor to install polyurea coatings because they can be exceptionally difficult to install.
Polyurea coatings can be difficult to install because factors such as the humidity present in the surrounding air can have a drastic effect on the quality of the installed garage floor surface.
Also, the cost of the product means that you will want to install it right the first time. Trial and error are certainly not a viable option with pricey polyurea coatings.
Still, polyurea garage floor finishes can provide excellent returns when installed correctly. Their durability can extend their lifetime far beyond the average lifetime of traditional epoxy coatings.
7. Carpeting
If you plan on carpeting your garage floor, be aware that you will need to choose either a carpet designated for outdoor use or a carpet designed for automotive use.
It is recommended that you seek out a carpet that is flame retardant because you are going to be driving on top of it and will likely be using tools in your garage.
Carpets designed for garage use include:
House, Home, and More Heavy-Duty Ribbed Indoor Outdoor Carpet

This carpet is made of UV-protected olefin fibers designed to be resistant to sun damage, stains, and moisture
The heavy-duty marine backing keeps the carpet from bunching up

Delooant Parking Garage & Shop Floor Mats

The felt fabric is designed to absorb water, oil and any other liquid you may have in your garage
The waterproof membrane on the reverse side of the carpet should help keep it adhered to your garage floor
This carpet is definitely large enough for most garages, measuring in at 7.56 ft by 21.1 ft.
8. Concrete Sealers & Resurfacers
Concrete Sealers
Using a concrete sealer is a good way to freshen up your garage floor on a tight budget. The concrete sealer will fill up any cracks or holes in your garage floor.
The sealer will also leave your concrete floor looking as good as new.
Concrete can sometimes accumulate hairline cracks during the curing process as water in the cement slurry evaporates. Larger fractures in cement accumulate over time due to stress from vehicles and equipment, as well as the settling of the house.
As long as the structural integrity of your garage floor remains intact, using a concrete sealant such as No products found. is a sensible solution for touching up your garage floor.
This concrete sealer covers up to 1500 square feet of floor space. You will only need to apply one coating of the sealant if you are looking to fill out cracks. It is recommended that you apply three coats of the sealant if you are looking for a glossy finish characteristic of fresh cement.
Concrete Resurfacer
You may also consider touching up your garage floor by using a concrete resurfacing agent such as SAKCRETE Flo-Coat Concrete Resurfacer . Polymer-based cement resurfacers such as this one have been formulated to transform cement flooring to look brand new.
A 20-pound bag or bucket will be able to cover 50 to 60 feet worth of surface area, according to This Old House.
The procedures for installing a polymer-based concrete resurfacer are relatively straightforward.
The tools you will need to perform the task include:
Detailed instructions on how to apply a concrete resurfacer can be viewed here.
Common Questions Regarding Garage Floor Finishes
You may still be unsure which type of garage flooring finish best fits your needs. Here we will answer some questions you may have regarding which garage floor finish to choose?
What Is An Affordable Way To Repair My Garage Floor?
One cost-effective method for repairing a garage floor that has acquired cracks or holes over time is to use a No products found. or concrete resurfacer .
The concrete sealer or resurfacer will even out your concrete flooring and can even be applied in multiple layers to add a glossy finish to your garage floor that will make it look shiny and brand new.
How Can I Make My Garage Flooring Last a Long Time?
The best way to make your garage floor last a long time is to apply an epoxy to your garage floor.
Applying epoxy to your garage floor can be particularly beneficial in hot climates because it is best able to withstand the damaging effects of hot car tires, which scour away paints and stains.
How Can I Protect My Garage Flooring From Oil Spills?
You can keep your garage flooring from accumulating oil stains by placing protective mats, such as the Armor All mat on top of your garage flooring.
This mat will absorb all liquids, including leaking oil, and keep them from migrating to the garage floor.
These mats can easily be made more stationary by adding some kind of adhesive tape or glue. Some roll out mats are heavier than other ones as well.
What Is the Most Stylish Garage Floor Finish?
Car dealership showrooms often use porcelain tiles such as Salerno Full Body Porcelain Tile, to make the space look more presentable.
While these tiles are not as fragile as you may think they are, they are still not as durable as some of the floor finishes discussed in this article.
Still, If you are looking for a stylish finish for your garage, you will definitely be interested in garage flooring tiles.
Among the most popular garage flooring tiles are sets of tiles displaying a checkerboard pattern.
What Is A Garage Floor Finish That Is Easy to Install?
Interlocking garage flooring tiles, such as those manufactured by GarageTrac , are quite simple to install. They often come with adhesive that keeps them stationary against your garage floor.
You do not need any extra tools to apply interlocking tiles to your garage floor, just peel away the paper protecting the adhesive side of the tile and place the tile on your garage floor.
Garage flooring tiles are also an affordable way to protect your concrete floor from spills and dropping objects. You may be particularly interested in garage flooring tiles if you are a home mechanic, frequently working on vehicles in your garage.
Summing up
Depending on your budget, experience level and personal preference, there are many methods for finishing the surface of a garage floor. Your choice also depends on how you use your garage and what your main goal is for covering the floor. Hopefully, this list has provided some inspiration and helped you get closer to the right selection for you!